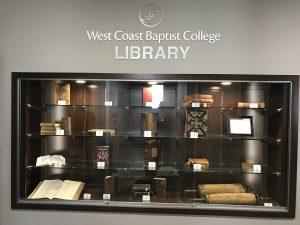 I have had the great privilege of working at West Coast Baptist College for the last 22 years. I have enjoyed seeing the hand of God at work over the years in the hearts of our student body. As part of our Baptist heritage, we place a great emphasis on the fact that the "Bible is our Final Authority for matters of faith and practice."
I have enjoyed teaching the bibliology courses through the years. We want our students to have a strong doctrinal conviction that they actually hold in their hands the Word of God. Yet, sometimes we can talk so much about the "doctrinal" that we can forget the "practical." In that respect, today I am thankful to be in a place that not only preaches the Word, but endeavors to live the Word.
In our newest edition to the campus, the Walther Center Library houses a display of old Bibles and commentaries. An original 3-Volume commentary set from John Wesley (1787) sits on display. Today, we added a Hebrew scroll that is nearly 600 years old. If that scroll could talk, I would love to hear the history of the places it has been, the people who have read from and revered it, and the direction it has provided.
My challenge to each of us today regarding the "Blessed Ole' Book" is simple: Love it; Learn it; and Live it.