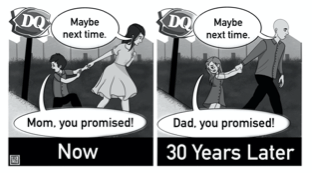 The opening picture of this chapter brings to mind a story from my youth.[1] This story takes place back in Georgia, nearly forty years ago. That's a long time ago and the fact I'm still talking about it can only mean that it must have really caused great psychological damage…I can't forget it!
I remember it like it was still yesterday. I was riding in the car with my mom as she ran her errands around town. I loved Dairy Queen as a kid. So, as any typical kid would do during the dog-days of a Georgia summer, I asked, "Mom, can we stop at Dairy Queen and get some ice cream?" It sounded like a reasonable request to me.
I have learned since becoming a parent that moms and dads have code words…happy talk that appeases the child but wouldn't stand up as a legitimate "promise" in a court of law! So, my mom, fully versed in parent-talk, said, "Not right now, Michael."
To a young kid, "Not right now," sounded like a promise. We're not going to stop right now, but we will stop later. So, I waited patiently with each stop, hoping the next stop would be Dairy Queen. I'm still waiting!
To be fair, my mom (who's heard me tell that story countless times) has volunteered to give me a life-time supply of Dairy Queen ice cream. I have refused – it would ruin my story!
From my mom's perspective, no implied promise was to be taken from her words. From a child's perspective, these words constituted an explicit promise! Since I'm the one writing the book, this counts as a broken promise that has reaped emotional damage on me for years!
In all reality, if the only "broken promise" from my childhood is one missed trip to DQ, I had a very good life growing up. For others, the narrative of broken promises is much more serious, and at times, hurtful.
If a parent continually fails to deliver on promises, it affects the way a child views God. The idea of a "loving Father" has a negative filter on it.
In this chapter, we learn that God cannot lie. He has made some extra-ordinary promises to those who know Him – and He will never break them. In fact, He's not even capable of breaking a promise.
From the perspective of an overcomer, God (through John's writings) has made nine specific promises that we should be aware of. Further, we should make sure we are claiming them!
---
[1] Shout-out to my daughter, Jodi Lester, for doing the artwork here. She posts a lot of her work on Instagram @Jo.Doodles.0803.
---
Just joining us on the journey? Follow the links below to see the previous posts.
INTRODUCTION
Chapter 1