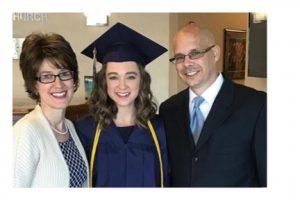 Living in Southern California, sometimes it is life in the fast lane. We can move from event to event, and at times be guilty of not enjoying the moment, the victory, or the blessing.
The Lester Family hit a new milestone on May 26, 2017! Our oldest daughter (we have five daughters) graduated from high school with honors and winning an award that recognized her Christian character and desire to live by biblical principles. We were blessed to have family in from out of state to celebrate this occasion with us.
Today, we officially have a college freshman in our home. In just a few short months, she will hit the academic trail hard as a full-time student. Yet, before our family starts thinking about what all "will be" – today we simply mark the milestone and celebrate. We pause to give thanks to the Lord for His blessings, for a daughter who has followed our counsel and guidance, for a youth pastor and team who have invested in her life, for Christian school teachers who have cared not just for her academic progress, but for her as a person as well. We give thanks to godly grandparents who have had a mentoring effect upon her just as Timothy's grandmother had an influence upon him. We say thanks to our pastor who had a vision to start a school, who has uncompromisingly preached about the importance of family. Finally, we recognize the strong bond of sisters. Each of the girls are the biggest fans for their other sisters.
That's my blessing for the week. What about you? If God is answering prayers, you are seeing victories, or you are passing some milestones, don't forget to take the time to stop and mark them! Life doesn't have to be lived in the fast lane every moment of life.