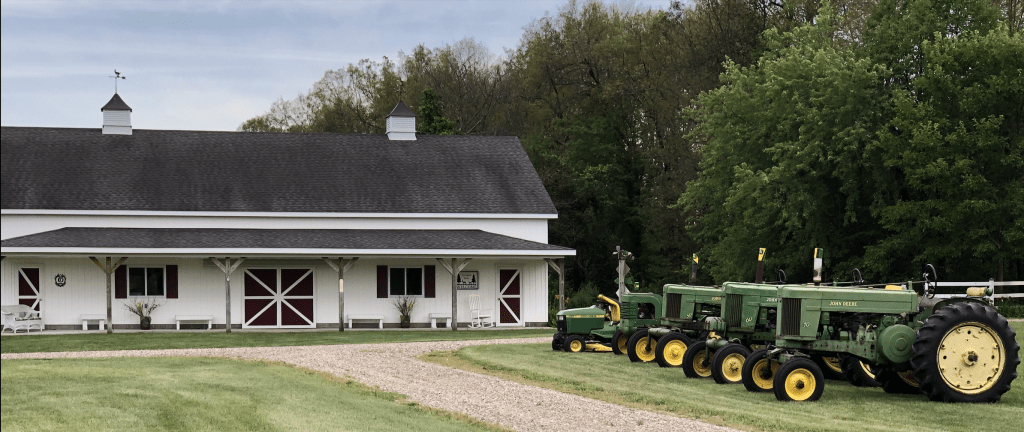 Most people reading this know me to one degree or another. If that's true, you can attest to the fact I typically don't sit still very well! For the last 26 years, I've lived "life in the fast lane." I enjoyed serving in a larger church, helping a Bible college get started both on-ground and online, and living 90 minutes from Disneyland!
Just over a month ago, my family pulled out of California and I am currently enjoying a sabbatical in Michigan. I've enjoyed the tractors, time with my immediate and extended family, and frequent field trips. Some have asked, "Hey Mike, how are you doing?" I wanted to take this post and just talk about life in the slow lane for a minute. Here are some lessons I'm learning.
The slow lane provides a different perspective
My last 26 years sometimes seems like a blur. Two children are now married, and one grandchild has arrived. Our third child is preparing to leave for college in just over a month. The slow lane has allowed some great one-on-one time with our children still in the home.
Currently, we are home-schooling and in the middle of learning Latin. It's been a great opportunity to have the time to teach them, to watch the lights come on, and to see them putting this skill into practice. I'm thankful to experience life at this pace at this specific time for our family. I could say more, but at a minimum, life in the slow lane has allowed the freedom and the flexibility to be fully engaged in our family's day-to-day routines.
The slow lane provides opportunities for personal growth
Because I'm wired as a type-A personality, I sometimes wonder if I could have been diagnosed as ADD as a child. I am wired to be goal-oriented, always pushing toward a new mountain, but rarely following the psalmist's wisdom to "Be still and know that I am God."
Normally, I would have finished my Bible at least once for the year. I'm taking a slower pace for the moment. I've never used devotional guides – ever! I've simply checked the reading goals for the day and attacked. Granted, there are mornings when I start to feel a little anxious because "I'm behind" – but God is calming my spirit. I even drive slower! Because I'm not preparing for weekly lessons to give to others, I'm actually reading God's Word for no one but me – and I know that's basic Christianity! Nevertheless, to use McDonald's slogan: "I'm lovin' it!"
The slow lane allows me to be a "church member"
For the last 26 years, we arrived early to church and left late. We were staff, and Sunday is a ministry day. We loved it. We looked for new people, we looked for personal visitors we had invited, and we looked for faithful and struggling members from our class. We discipled between services, took groups out to eat, invited people to our home, and then turned around for the evening service to do it all over again.
Frankly, this was just "normal" – it was what our Sundays always were and we knew no different. Now, I'm on the other side of that equation…it's strange. This past Sunday, at 8:30, my wife and I were enjoying time in our Bibles, and both of us felt a "twinge of laziness" for not being in church already.
Now we are the new faces in a service as we visit different places. We wonder if someone will greet us, will there be teens close in age to our children, do they have a missions program, is there a place we can serve. To be honest, I'm actually learning how to be just a church member and not be in "pastoral mode." But, I'm enjoying the journey and what God's teaching me.
The slow lane isn't permanent
I can't live on sabbatical for the long haul. There's a time to re-engage after being energized, replenished, and refreshed. Jen and I are discussing the basics – what church do we call home? Do we buy a home or an RV? Do we homeschool until the rapture, or look for a Christian school? Do we consider the opportunities presented by other churches and colleges, or is an adjunct position enough?
The slow lane is the polar opposite of where I've been. God has provided the strength and energy to work 60+ hours weekly, and to see lives changed. I've enjoyed some great vacations with our children because of being well compensated. Literally, I have no regrets. However, moving forward, I know physically I can't keep that same pace and steward my family's physical and spiritual health wisely.
I don't know what the future holds. Here's what I know for now. God is at work and the harvests are still white to harvest. God has a place where we can serve Him and make an impact for His kingdom. While we sit in the slow lane, I look forward to continuing to learn, to write, and to speak where He provides opportunities.
Finally, if you've been running non-stop for an extended season, pulling over into the slow lane isn't a death sentence! Think of it more like a pit-stop in a Nascar race. If you don't pull over for a few moments, you can't finish your race!